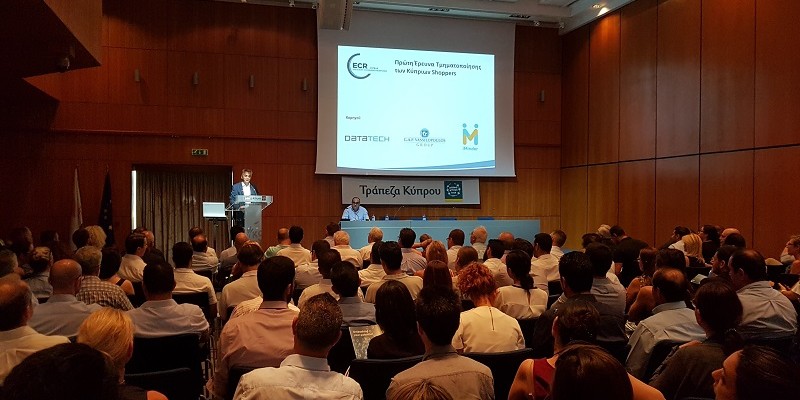 5 "Tribes" of Shoppers identified in Cyprus
More than 150 executives from the Cyprus retail market attended the event organized by ECR Cyprus in order to present the results of the first industry shopper research for the Cyprus market. The event took place on the 4th of July 2018 at the Bank of Cyprus Head Offices. It was kindly sponsored by Datatech, G.A.P. Vassilopoulos and iMinder.
Marios Loucaides, President of ECR Cyprus, welcomed the attendees. He mentioned that ECR Cyprus was founded some years ago to achieve a more efficient cooperation between all the members contracted to provide the Cypriot consumer with food and related products at the best possible quality and at competitive prices. He invited companies to join the association and work with their colleagues and partners to adopt best practices and effect synergies to benefit the consumer. Coordinator of the event was Mikellis Christou, Board Member and responsible at Board level for the research.
The findings of the survey were presented by Olympios Toumazou, Executive Chairman of Rai Consultants. He pointed out that the majority of the shoppers in Cyprus are women (70.8%). Shoppers are mostly married (72.4%), and the average household has 3 members. On average they shop 7.6 times each month from supermarkets, 10.8 times/month from bakeries, 6.1 times/month from grocery stores and 3.2 times/month from butcher shops.
The research identified 5 "tribes" of shoppers:
1. Active Economizers
2. The Young & The Restless
3. Family Driven Traditionals
4. Brand Oriented Swingers
5. Comfort Driven Traditionals
For the implementation of the research, 1000 personal interviews were implemented in urban and rural areas from January to April 2018. The research was carried out by RAI Consultants, and audited by Demetris Alpanezos.